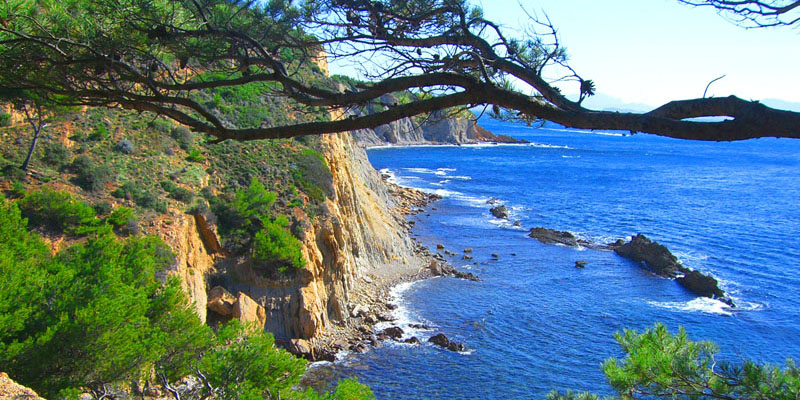 Description:
The Côte bleue is located between Marseille, l'Estaque and Martigues and consist of various calanques and forms an ideal walking area. From the coastal path you can discover Marseille and the port of Niolon, wich is also known as the starting point of many famous walks. One walk, from Ensues-la-Redonne to Niolon, will take you to beautifull calanques and offers you a great view on the ocean.
Description of the Côte Bleue
The Côte bleue extend over 25km from Marseille to the bay of Fos. It is one of the touristic highlights of the region. The coast consists of white sandy beaches, small seaside resorts and cabines that turn the calanques into paradise. High up in the sloping hills you can admire the series of small islands surrounded by the blue ocean and chalk rocks : a contrast where this area is famous for. The beaches of Establon, Niolon, Méjean and la Redonne are situated in small creeks with a vegetation of pine trees and oaks. The Côte bleue is part of a region that is famous for its nature, creeks, platforms and cliffs and is ideal for short or long walks.
The protected area of the Côte Bleue
With the appearance of the first marinas, the côte bleue became a protected area. The development of harbours and construction are restricted so that they don't do wrong to the natural site of the côte bleue. Despite of the tourism, the industrie and the fire hazard, the côte bleue still stands strong and fights against destruction. Today, the côte bleue is the largest of his kind in France. The whole continental part is protected by the 'Conservatoire' who, piece by piece, buys the ground and the maritiem zone and takes care of the seaparc. Thanks to the tunnels and overpasses, there are many routes that can handle growing interest. Even with the construction of certain marinas, they try to keep a natural environment.
Activities at the Côte Bleue
The coastline offers a wide spectacle for hikers with places as the creek of Laurons, the beach of Verdon, the little harbour of Tamaris or the town of Carro. These savage places have original activities to offer such as a botanical route, an outdoor fitness course or fossils. The parc of Figuerolles has over 130 ha and offers numberous activities such as a climbing parc, a farm and a ranch were you can discover the parc by horse. A visit to the town of Martigues is worth it. There are a number of monuments and cultural activities to discover like ; the museum Ziem, the archeological cabinet, the birdsmirror or the fort of Bouc. During the summer you can get a guided visit at the reservate of Carry-le-Rouet wich gives you a view of the sealife and lets you sympathise with the people who work to protect certain nature areas such as the Côte bleue.