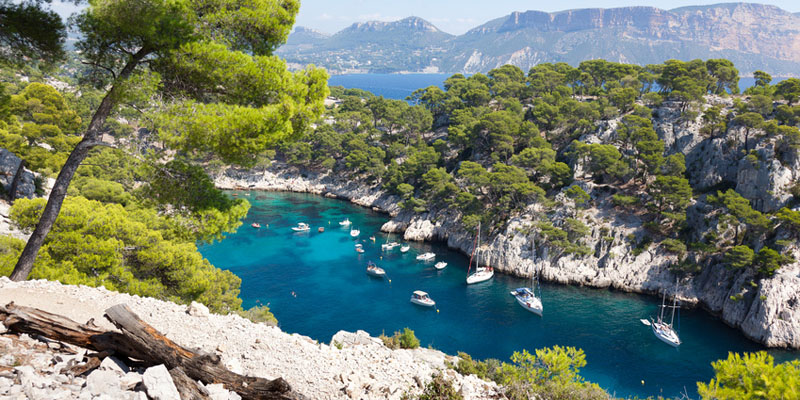 Description:
This amazing piece of nature, between Marseille and Cassis, is since 2012 one of France's national parcs. It extends over 20km and is 4km wide.
The calanques are most famous for their spectacular views on the chalk cliffs, blue ocean and their white sandy beaches. In the calanques you can find fossils of over more than 100 million years old.
The calanques are divided in different parts, according to their geological location.
Some of the calanques are easy accessible for the public and others are not and are more reserved for professionals. Some of them offer beaches, restaurants and diving centres. You will find the calanques of : Callelongue, Mounine, marseilleveyre, Queryons, Podestat, Cortiou, Sormiou, Morgiou, Sugiton, Pierres-tombees, l'œil de verre, Devenson, Loule, En-vau, Port-pin and Port Miou.
There are a number of possibilities to visit the calanques.
From the harbour of Marseille you can visit the calanques by boat or you take one of the hiking trails that traverses the calanques. You can also enjoy the water, but note that the water will be a little cold due to the chalky cliffs.
Please prepare yourself on your trip. Mostly because of the dry climate in the Provence (water, food, a hat, different sets of cloths – rain), The calanques are not always open to the public due to the climate. In the summer it is best to look on the Internet or get information at cityhalls about the opening hours of certain calanques.
If you come and visit our campsite, on of the first things to do is to see the calanques of Marseille. You will go home with lots of beautifull photos and a lifetime memory.